Introduction
Welcome to CEO Water On-line Store powered by easy.my. We are specialized in home water filter system. We supply a wide range of water filtration systems, water cartridges and household filters accessories throughout Malaysia and Singapore. Our drinking water from vending machine are certified by KKM and safe for direct drinking.
As we know, human body composes 50-70% of water depend on individual's hydration level. Drinking at least 8 glasses of water per day is a general guideline to maintain body fluids to support body functions like blood circulation, digestion, absorption, nutrients transportation,...etc. Other than quantity, the quality of water is also concerned by consumers for healthy body. Consumers' expectation for clean and fresh water is higher nowaday in order to get rid of the risks posed by contaminated environment.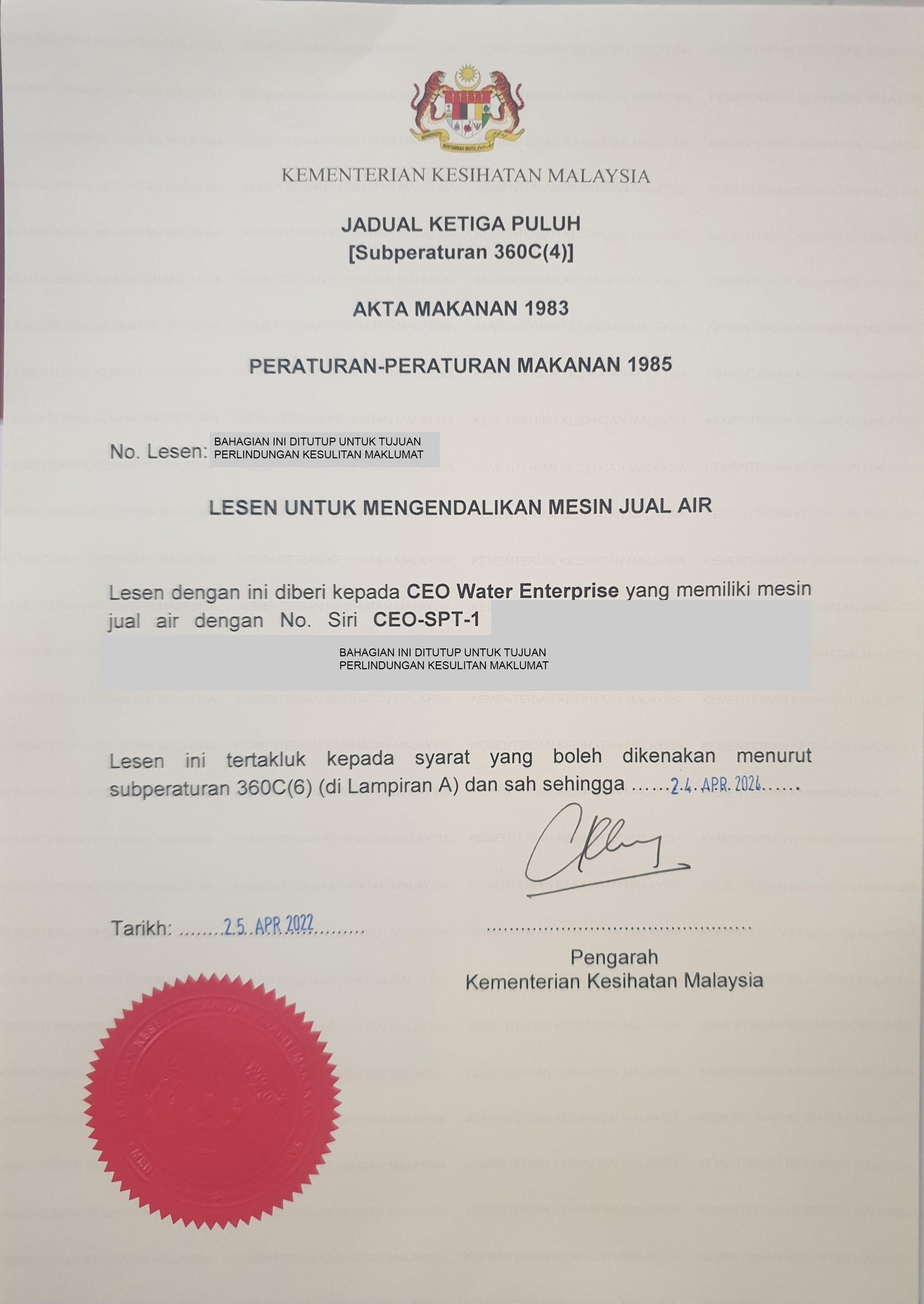 Type of Water
How to get clean and fresh water? We definitely need filtered water. Home filter system serves purpose as a basic filtration for the needs of clean and fresh water. At our store, customers could choose and get various types of filter system : mineral water, reverse osmosis (RO) water, mild alkaline water, energy water, basic purified water,...etc. It would depend on the customers' condition and requirement to opt one type of this.
DIY Concept with Lower Cost
On top of the products, our company also promotes DIY (Do-It-Yourself) concept and allows customers to custom make their ideal home water filter system or for neeeds. There are many kinds of filter body covers, cartridges and assccessories to pick from, to fulfil each stage of the filtration process and form a complete, pratical but lower cost filter system. In addition, installing and set-up a home filter system is no longer a barrier with many easy and quick filter accessory fittings. It is similar to the 'plug and play' concept, the installation and dismantle works are just 'press and fit in' or 'press and pull out' procedures. There is free operator guide attached with the complete set system. Besides that, we also provide operator service/ guidance to assist our customers during the cartridge selection process and even after sale for installation and cartridge replacement. Best quality of products and services is our company's mission and commitment to the customers.
Filter System as A Kitchen Complement
Water filter is not only meant to supply clean and fresh water, the modern appearance of CEO Water's filter system is also one of the factor that customers are willing to buy from us. There are numbers of body designs, colour and material available for customers. This attractive appearance could complement to part of the kitchen/ office interior design.
Don't Wait, Act Now
It is more meaningful to DIY your home water filter unit. You would have deeper connection to the system you hand-on, and gain sactisfaction from the work. Exercise it now and we, CEO Water - DIY Concept is here ready to assist you! Contact us!